Australian Tamil Cultural Society (ATCS) celebrated its silver jubilee on 29 April 2017. The silver jubilee celebration was presided over by Deputy Chief Minister of ACT Hon Yvette Berry MLA; Michael Pettersson, MLA as the representative for the Chief Minister of ACT, Mr. Sonal Bajaj from the High Commission of India in Australia, Mr. Amardeep Singh, President FINACT, Mr. Krishna Nadimpalli from Telugu Association of Canberra and Mr. Ravi.
The dignitaries mentioned in their speeches that they held ATCS in high esteem. They mentioned that it was highly encouraging to see that ATCS was able to celebrate and teach the Indian Tamil cultural values to the next generation.
The function was well attended by over 200 members of the Tamil society. These included some of the founding members as well as those who have just come into Australia. ATCS was founded 25 years ago with a small group of people by Dr. Palaniappan Muthiah. The main purpose of the organisation  is to preserve, perpetuate and propagate the heritage of the Indian Tamil speaking population, to assist and promote literary, cultural, educational, social, health and community activities of the people of Tamil origin. From humble beginnings ATCS has truly spread its wings with over 200 members, a dedicated Tamil school by the name of Chennai Tamil School with over 70 enrolments and participation in multicultural and sports events.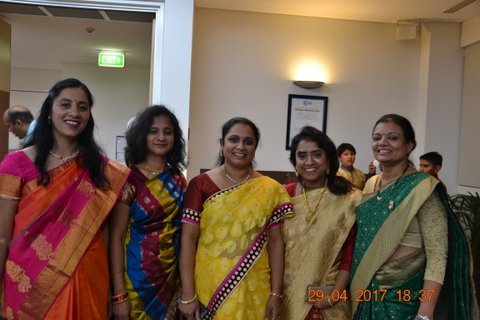 During the silver jubilee function, the audience heard from past and present members the successes and challenges faced by ATCS. There were many light hearted moments when the members were shown glimpses of the dance/drama shows, or anecdotes from the past performances. The evening was interspersed with classical, semi classical and karaoke performances by children and adults. Students of the Chennai Tamil School sang Vande Mataram in Tamil which was written by Subramanyam Bharathi. Now and then, a trivia was asked of the audience which kept everyone entertained. Prizes were distributed to the winners of the sports competition from the ATCS sports day held on 1 April.
Members of the current committee cut a silver jubilee cake followed by a sumptuous three course dinner. The function concluded with a vote of thanks to all members past and present and the hardworking volunteers who once again managed to put a wonderful show.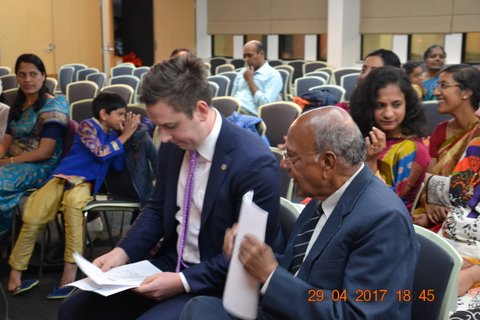 Regards
Ravi
ATCS Executive Committee
தமிழால் இணைவோம்!