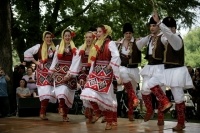 The Queanbeyan-Palerang Regional Council are managing the very successful Queanbeyan Multicultural Festival from last few years and are now looking to grow the day and where ever possible involve more community groups to use the day to interact and connect with members of the public.
Last year they had 4000-6000 people throughout the day so it is certainly a great day out for many people. Our research also indicates that a large number of people from ACT attend the day too. The event runs from 10am-4pm and involves 20 acts, street food and lots of community groups creating magic in our beautiful park.
[bctt tweet="Participating in Queanbeyan Multicultural Festival 2017 with 'India in Town' performance from 11.15 till 11.45. " username="finact11″]
What we are doing?
FINACT had a very successful meeting today with council represented by Cheryl Rule and Laura Shelley (on 6th December 2016) which has opened the doors for FINACT to establish a partnership in promoting and presenting the Queanbeyan Multicultural Festival. The event will be held on 5 March 2017 and the first week of march for the coming years.
We are pleased to advise you that FINACT along with member associations will be presenting cultural and sports activities, and putting up food and information stalls.
Stay tuned for more information.