Ugadhi festival has a special place in the lives of Telugu speaking people all around the world. Ugadhi marks the arrival of Telugu new year and the time when the strong colors of Holi start fading away, the freshness of spring lingers on with sprightliness all around.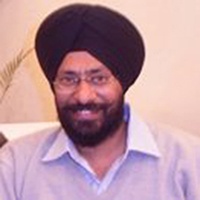 The onset of spring also marks a beginning of new life with plants acquiring new shoots and leaves. Spring is considered the first season of the year hence also heralding a new year and a new beginning. The vibrancy of life and verdant fields, meadows full of colorful blossoms signifies growth, prosperity and well-being.
It is a season for raw mangoes spreading its aroma in the air and the fully blossomed neem tree that makes the air healthy. Also, jaggery made with fresh crop of sugarcane adds a renewed flavor to "Ugadi pachchadi". The Sweet and Bitter part of which provide us with the motivation to face good and bad challenge in life.
The significance of Ugadhi can be realised by the belief that the Lord Brahma started creation on the day of Chaitra suddha padhyami or the Ugadi day. As President of 'Federation of Indian Associations of ACT' I wish all of my Telugu brothers a very happy Ugadhi.
Amardeep Singh