A new Executive Committee of FINACT was elected on Sat 15 July 2017 in its annual general meeting. You may find their details on our website www.finact.net.au. This team is enthusiastic and keen to host this tournament even better.
Please join me in congratulating the new team and extending our support for their initiatives in coming months.
Registration for FINACT T-20 Cricket Tournament
As informed earlier (please see our previous emails below), registration for FINACT T-20 Cricket Tournament 2017 has started on Monday July 3. This year we are experimenting with 2 group of teams for round-robin league matches. It will give more opportunities for each team.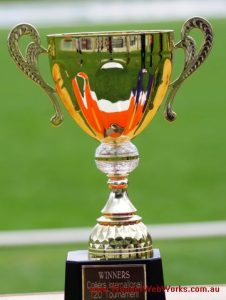 Format: Round robin league (2 groups)
Registration ends: Sun 6 August 2017
Draws: Tuesday 15 August at the High Commission of India premises
Tournament starts: Sun 10 September 2017
We hope to finish League matches by Sun 8 October. This will enable us to recommend few teams to participate in Thunder Nation Cup (TNC) starting in Canberra on Sun 15 October.
Semifinals: Sun 23 October 2017
Pre-final dinner: Sun 30 October 2017
Final match: Sun 5 November 2017
Please share / forward this information with your friends and other potential team managers and sponsors.
Payment of registration fees
Registration fee ($500) and the name of supporting association are required.
Please make your online payment to FINACT bank account or by a cheque drawn in favour of "Federation of Indian Associations of ACT (FINACT) Incorporated":
Name: Federation of Indian Associations of ACT (FINACT) Incorporated
BSB: 062 919
A/C No: 1034 3742
Amount: $500
Please do not forget to send the following details to [email protected]
your receipt/payment proof
name of your team
names of team players
name of the supporting FINACT member association
Seeking sponsorship and volunteers
If you are aware of any businesses willing to sponsor/support this event, please encourage them to contact us soon.
If anyone interested in volunteering or becoming a Protection Officer for the tournament, please contact us.
Namaste
Sanjay Pandey
on behalf of Cricket Coordination Committee