This is in continuation to our trailing email regarding FINACT's International Women's Day celebration.
Please find below further information about the event on behalf of Ms. Divya Ravikumar, FINACT's Women representative
FINACT is organising a workshop to share success stories and experiences of inspiring women of Indian heritage from various fields, focusing on their journey, challenges, obstacles and pathways they undertook to achieve in their respective fields.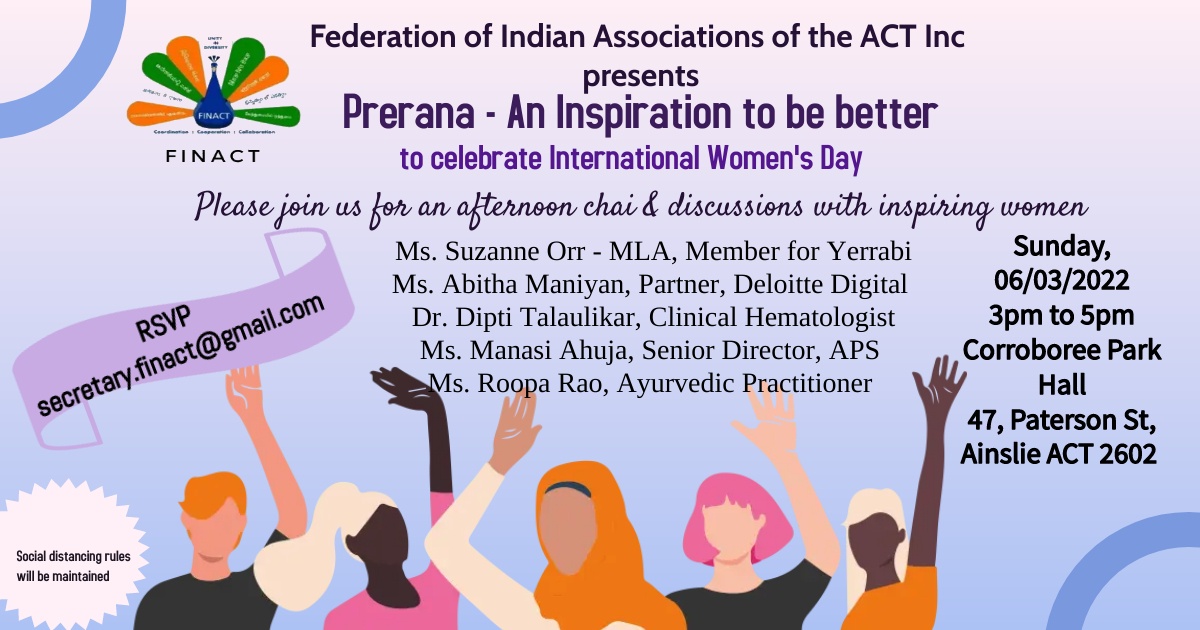 The theme for the workshop is – 
Indian women in leadership roles, well being and work life balance
. As Women's Representative for the current FINACT committee, I cordially invite everyone to attend this workshop.
The Speakers for the event are as follows
Ms Suzanne Orr, MLA, Member for Yerrabi, Government Whip, ACT Government
Ms Abitha Maniyan, Partner, Deloitte Digital
Dr Dipti Talaulikar, Senior Consultant, Hematology, Canberra Hospital and Associate Professor, Australian National University
Ms Manasi Ahuja, Senior Director, Australian Public Service
Ms Roopa Rao, Ayurvedic Practitioner
Please find attached the flyer as well as the program agenda for your reference.
Please note this event is open for everyone to attend (not limited to women).
Regards,
(On behalf of Ms. Divya Ravinkumar, Women Representative)
Rahul Ravindranathan
Secretary